School Newsletter
Newsletters are published monthly. Please click the link below to download the most recent available:
School News
Switch Witch a Huge Success
Posted on

November 10th, 2017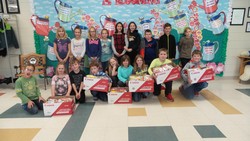 Our Health Action Leadership Team (the HAT Team) hosted a program called "Switch Witch".  This is an annual event at Breton Elementary.  We encourage students to donate Halloween candy, in the three days after Halloween.  All of this candy is sorted and boxed up.  The boxes of candy are sent to our soldiers serving overseas so they can enjoy a sweet treat and a few happy notes from the students of Breton Elementary. 
This year, the students of Breton Elementary donated 70 pounds of candy (which is 20 pounds more than last year).  The candy has been shipped to soldiers currently serving in Latvia.  We wish those soldiers well and a safe return home.