School Newsletter
Newsletters are published monthly. Please click the link below to download the most recent available:
School News
Seven Habits Training for Staff Compelted!
Posted on

January 20th, 2016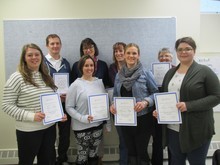 We were proud to host the Seven Habits of Highly Effective People Signature 3.1 training at Breton Elementary.  We were joined by staff from Breton High School and Warburg School.  All our staff now have the foundational training for our Leader in Me program.