School Newsletter
Newsletters are published monthly. Please click the link below to download the most recent available:
School News
Inline Skating a Big Success
Posted on

February 28th, 2015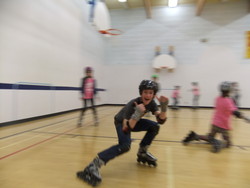 Students at BES are very fortunate to have access to fun and interesting activities lately.  Throughout late January and early February classes
got to head to the outdoor rink and enjoy the crisp winter air while ice skating for an afternoon or two.

During this last week of February, BES and Parent Council brought in the Alien Inline Skating Company to expose students to the fun and excitement of inline skating. All classes received three or four 45 minute sessions during the week in which they learned how to skate, played games and worked up a good sweat! Breton High's Sports Performance option also joined in the fun.  Teachers, too, had a chance to try their hand at inline skating and enjoyed the time to get active. Students and  staff would like to thank Daniel from Alien Inline Skating for being a fun and patient instructor, and for bringing this awesome sport to our school.