School Newsletter
Newsletters are published monthly. Please click the link below to download the most recent available:
School News
Food Bank Drive a Huge Success
Posted on

October 5th, 2014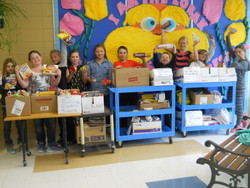 Way to show community leadership!  On Friday, October 3, our Grade 6 class counted the final tally of our food bank drive and helped load all items for delivery.  We collected 567 items and some cash donations for our local food bank.  Thank you s much to everyone who helped make this possible.