School Newsletter
Newsletters are published monthly. Please click the link below to download the most recent available:
School News
Cultural Day at Breton Elementary School
Posted on

September 15th, 2016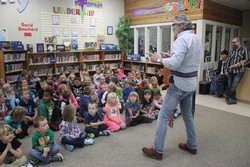 David Bouchard 
The morning began with the return of author, musician, and First Nations advocate David Bouchard. David spent the morning speaking to the students on topics from love, respect and passion to difficult conversations about residential schools and Canada's path to reconciliation. He also has a cool watch.
"The meaning of life is to find your gift.The purpose of life is to give it away."- WILLIAM SHAKESPEARE
David's gift is storytelling. Through stories and Native flutes, he teaches and inspires students, parents and educators alike. Over the past 15 years, he has captivated and enlightened over a million people the world over; from India to China…from the U.K. to Texas…from Newfoundland to the Northwest Territories. (Taken from his website http://davidbouchard.com/)
Pow Wow 2016 Breton Elementary
With the dedicated support of the Crier Family, Breton Elementary has hosted the second Pow Wow in 3 years. Filled with dancing, history and drumming, this was a experience that will stay with the students and all in attendance. We are so honored to be using the land of the First Nations People, and to share in its history and traditions.